DONOSTIA SURFILM FESTIBAL 10° ANNIVERSARY
BASQUE COUNTRY, SPAIN – 04-06 ; 10-06-2012
Surfilmfestibal. Donostia – San Sebastián. Surf, Music, Art and Environment Film Festival.
© Surfilmfestibal 2012
SURF RIOT ©Nick Waplington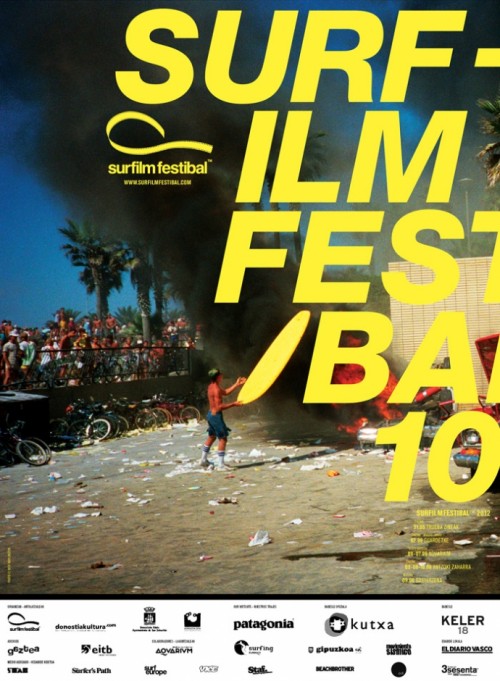 2012 OFFICIAL SURFILM FESTIBAL IMAGE
On the last day of August, 1986, Nick Waplington woke up late and turned on the news. An Aeromexico DC9 had collided with a light aircraft going to Big Bear for the weekend. Both aircraft dropped from the sky onto residential Cerritas, near Huntington Beach, just south of Los Angeles, killing all those onboard both planes — plus a number of people unlucky enough to be at home that Labor Day morning.
Waplington then drove to Huntington Beach, where he had been planning to watch the OP Surf Pro Championships. Upon arrival, all hell was breaking loose. Having only one roll of 24 exposure film, Waplington documented the chaos exploding around him in 25 concise frames.
The photographs within Surf Riot contradict the standard imagery associated with American surf culture from the 1980s. Gone is the laid-back Adonis figure and his flaxen-haired beach babe, and instead, in full lurid color, we see sunburned teens running wild. Unlike other youth revolts, this surf riot bears little in the name of protest— it's merely a spontaneous eruption of violence just for the sport of it. Coca Cola cups and radio station promotions lie trampled underfoot, commercial symbols of contentment cast aside.
---
---